Product Strengths
Flooring Sheets With Realistic 3D Graphics
A high-quality sales promotion tool with simple and low-cost installation.
This simple tool works just by taking a picture with a camera,
creating an effective way to get your message across to recipients of all ages.
Ninjenique products are designed for the height of the lens when taking pictures with a smartphone or compact camera.
The three-dimensional effect of the image is heightened when viewed through a camera.
These products create an impact when viewed in person, and also elicit a powerful response when captured in photos.
Striking effect with minimum setup time
Photographing the image with a camera creates a high-quality realistic three-dimensional graphic.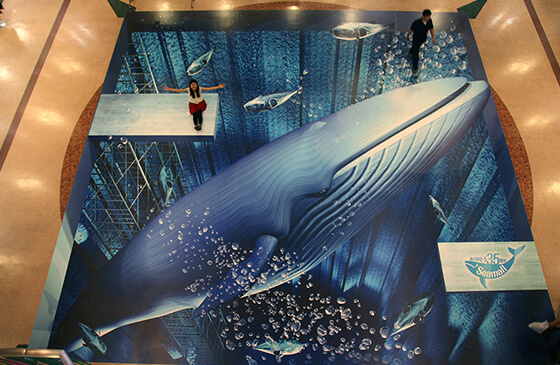 Maximum impact for minimum cost
A catalog of standard designs makes it easy to select and order Ninjenique products, enabling rapid and low-cost sales event creation.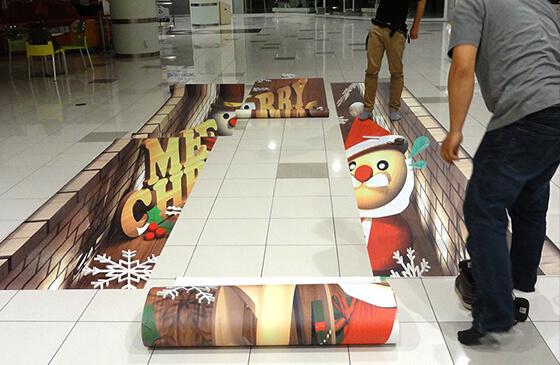 Viral potential on social media
Original designs incorporating your product designs or corporate logo can be created.
Order
Orders can be placed using the inquiry page.
For faster service, you can speak to a Ninjenique representative directly by calling +81 (0)3 5797-7619.
Our representatives are on hand weekdays from 10:00 am to 6:00 pm JST (UTC + 9).
(Please use email at other times.)
Standard Orders
Standard products can be selected from the product catalog on this website.
Corporate logos can be added if they will not interfere with the image composition for no additional fees.
(Please provide the data in illustrator or photoshop format.)
Standard products are more inexpensive than customized products, and can be delivered more rapidly.
Best size
6 × 3 meters (depth × width)
(This size is recommended since people fit completely in the image when photographed, creating greater impact.)
Price
€5,980 per image
(including production and shipping costs)
View Standard Products
Customized Orders
We can create original products uniquely tailored to your needs, using photos, pictures or computer graphics you supply as a reference.
Products for your reference are shown in the product catalog, and can be used as a general guide.
We will suggest the optimum design that satisfy your requirements.
Size
Inquire for details, for any desired size.
(The particulars will vary depending on the product size, design complexity and installation location, please inquire for details.)
・Including production and shipping costs
・Excluding design and refining costs
・Design fees : €1000~4000
Please require for details.
Delivery time
1 month from time of order finalization
(General guideline. Please inquire for details.)
View Customized Products
How to Order
Standard Orders
Select design
Inquire/Submit order
Confirmation
Payment
Printing
Delivery
Installation
2 weeks minimum
Customized Orders
Inquiry
Choose keywords/Send details
Design proposal
Check design/Refine
Confirmation
Payment
Printing
Delivery
Installation
4 weeks minimum